When you hit a pothole it can result in many tire problems, from blowouts to bad alignment, they both endanger your car and may make the car risky to drive. If your car accidentally hit a pothole, come out of the car and check your tires.
Every year, potholes happen to be on every bad road in Nigeria due to the rainy season, and it is kind of impossible to resist the potholes.
The pothole effect can hit the wheels of your car out of alignment and also the car steering or dislodge wheel weights, bend or even break suspension parts and defect a tire or wheel.
During the rainy season, the temperatures have been rising and falling which will result in road materials changing. It will then make potholes that differ in size from small cuts to gaping, car-swallowing valleys. As difficult as it may be to avoid hitting a pothole, driving around them is essential to your car's lifespan, and it will enable you to prevent damages that will cost you greatly.
HOWTO SAFELY AVOID POTHOLES
• Make sure you drive with caution and very carefully around them. Boost the distance between your car and the car in front of you.
• Enhance your vision. Peek into the distance at the road in front of you and the car in front of you to help glimpse and drive around forthcoming potholes. And also sure your headlights are working very well and your windshield is neat for good vision when driving at night.
• Be careful of puddles. You might know how to drive safely, you still have to avoid steering over puddles. A puddle may be looking innocent and safe but it could also be filled with water which can damage your car.
Most times you can be extremely careful and mind your speed when driving, but some potholes are almost difficult to avoid. This is extremely real on dirt roads or urban roads that need to be repaired. If the pothole was wide, or you smash it with great speed, it's reasonable to stop by or call any auto repair shop near you, as soon as possible.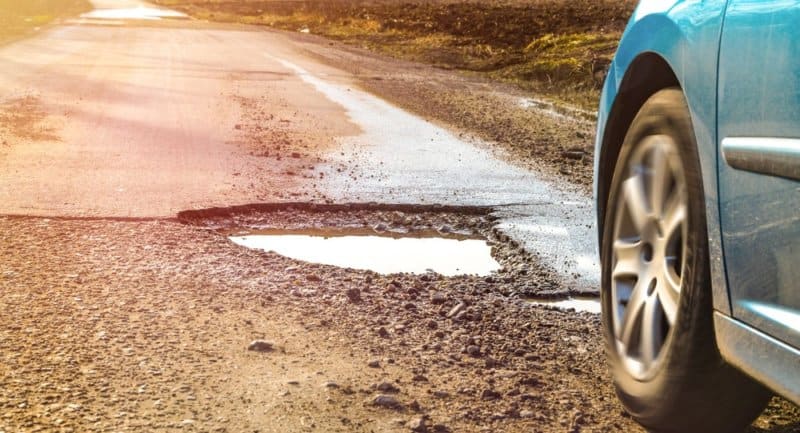 HERE IS WHAT YOU NEED TO KNOW ABOUT POTHOLES AND YOUR TIRES
Tires are very strong, they are your car's main level of connection with the road, and they operate very well. However, they are very strong but not indestructible. This is particularly accurate when it attains to potholes. Coming in contact with a pothole can result in a variation of tire problems.
How Potholes Affect Suspension and Steering
If your tires go through a pothole crash and it's still intact, your car suspension and steering wheel may be affected. If you discover that your car pulling to one angle after you smack a pothole, one or more of your car steering units might be out of alignment. This can result in your car suspension wearing out unevenly which will reduce the car's well-being relatively.
If the car has commenced pulling, take the car to a suspension technician as soon as possible. Repairing what the pothole has damaged instantly will enable you to avoid additional harm to your car, and it will also make your car safer to drive.